Top 5 books to turn your high-tech innovation into a successful business
Technology's riff on the American dream runs something like this: Young people hang out in a garage, create a world-beating technology, and build a wildly successful company.
It doesn't usually happen that way, of course. That last part about building a successful business is especially hard work that requires specific business skills that technology entrepreneurs often lack. Fortunately, there are thousands of books on the subject that can help garage entrepreneurs make the leap to successful executive. As someone who has been working in family businesses, starting and growing my own businesses, or teaching entrepreneurs for most of the past 40 years, I've read hundreds of these books – and written six of my own. Here are my picks for the Top 5 books every entrepreneur should own: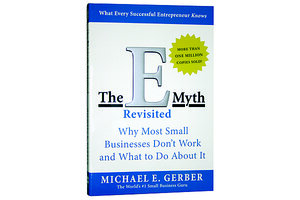 Courtesy of E-Myth Worldwide, Inc.
1.

The E-Myth: Why Most Small Businesses Don't Work and What To Do About It

By Michael E. Gerber (HarperBusiness, 162 pp.)

Although some may argue that this 1988 classic has gotten a little long in the tooth, I still recommend it. In a relatively short book, Gerber gives a realistic job preview that all first-time entrepreneurs should read before they jump in the water. The original edition is a bit hard to find, but no worries. The revised edition – "The E-Myth Revisited" – is just as good.