Raj Rajaratnam: How does he stack up in big insider-trading convictions?
Raj Rajaratnam, a wildly successful hedge fund manager, was sentenced and fined Oct. 13 on fraud and conspiracy counts for using insider information to make more than $50 million. Prosecutors called it the largest insider-trading case ever for a hedge fund. So how does his conviction stack up against other insider traders in the United States who were found guilty? Here's a look at the Top 5 convicted insider traders: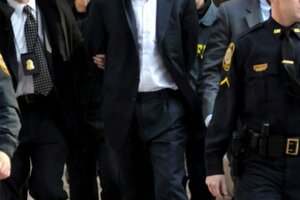 Michael Schwartz/Newscom
5.

Joseph Contorinis (Sentenced to six years in prison)

In 2010, Joseph Contorinis was convicted of insider trading that prosecutors say netted $7 million in profit. He was tipped off by UBS AG investment banker Nicos Stephanou about upcoming acquisitions and mergers.

Mr. Contorinis was sentenced to six years in prison under federal guidelines that give longer sentences for bigger profits. The prosecution argued that Contorinis should have received more prison time, because the insider tips had kept his fund from losing more than $6 million, which they said should have been added to his total profit.