Five of the costliest US river floods
The 2011 Mississippi River flood, which has broken records in some places, is creating steady destruction in America's midsection. Hurricanes tend to cause more financial damage, and flash floods typically take more lives. But overflowing rivers deliver a long, slow economic punch. Arkansas farmers have lost an estimated $500 million in crops to this year's flood. Mississippi homes and catfish farms – a leading industry – are threatened. In Louisiana, the diversion of water through a spillway to spare Baton Rouge and New Orleans still puts hundreds of homes, businesses, and chemical plants and oil refineries at risk. Total damages could run into the billions. Here's a look at five of the most expensive river floods in the US, according to estimates from the National Weather Service and historical accounts (reported in 2011 dollars):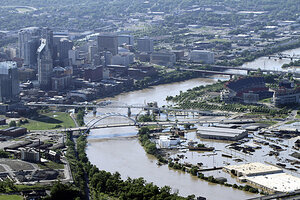 M. J. Masotti Jr. / Reuters / File
5.

Cumberland River, 2010 – $2 billion

During May 2010, downpours in Kentucky and Tennessee caused flash flooding in Western and Middle Tennessee from the Cumberland River and its tributaries. Much of downtown Nashville was submerged in water and the greater Nashville area suffered more than $2 billion in property damages.Twenty-six people in Kentucky and Tennessee died, 11 of which were in the Nashville area.