New jobs down, unemployment up: Is the economy hitting a pothole or a ditch?
Unemployment increased to 9.1 percent in May, and only 54,000 new jobs were created. Economists point to lingering impacts of the tsunami plus rising food and gas prices.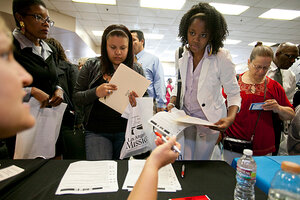 Damian Dovarganes/AP
The economy seems to have hit a speed bump – but not a stoplight.
The latest indication of the slowing economic pace came on Friday, when the Bureau of Labor Statistics reported the economy created just 54,000 jobs in May, the lowest number since September of 2010. At the same time, the BLS reported, the nation's unemployment rate moved up to 9.1 percent from 9 percent in April.
Job growth in May was considerably slower than March and April, when it was averaging over 200,000 new positions per month.

Recommended:
Unemployment rate edges up to 9.1 percent
Behind the slowdown, say economists, are the ripple effects on the auto industry from the tsunami in Japan, the adverse impact of rising food and gasoline prices, and a slowdown in business hiring.
"We've hit a soft patch," says Joel Naroff of Naroff Economic Advisors in Holland, Pa. "It looks like we may have a month or two of subpar job growth."
The weak jobs numbers prompted a spate of press conferences and press releases in Washington. The Republicans blamed excessive federal spending, lack of progress on reforming entitlements, and the high federal debt levels.
"Instead of more stimulus, more debt, more regulations, and yes, more taxes, the President needs to take a cue from the Reagan recovery and get Washington out of the way of our job creators," said Rep. Kevin Brady (R) of Texas, the top Republican on the Joint Economic Committee, in an announcement.
At the same time, Austan Goolsbee, the chairman of the Council of Economic Advisers, called the numbers a bump in the road, noting it's important not to read too much into one monthly report. "The overall trajectory of the economy has improved dramatically over the past two years," he said in a statement.
Response from the market
Wall Street had been expecting lower numbers – but not this low. As a result, the stock market opened with a loss of as much as 144 points on the Dow Jones Industrial Average. By noon, it had trimmed the loss to 75 points.
"The jobs number is pretty disappointing," says Jeffrey Kleintop, chief market strategist at LPL Financial, an investment firm in Boston. "We may get a few more of these for the next several months."
In the weeks ahead, Mr. Kleintop is expecting a fairly "somber" tone, as corporations begin to scale down their earnings expectations. This could result in stocks losing more of their value, he says.
"We're not in a bear market," he says indicating a period when the market falls 20 percent or more. "But, we are hunkering down a bit."
One of the key factors in the small increase in jobs appears to be the tsunami in Japan, says Dan Meckstroth, chief economist for Manfacturers Alliance/MAPI in Arlington, Va.
"The Japanese tsunami has hit the US with a delay," says Mr. Meckstroth. "It feeds down through the supply chain."
For example, in April, many Japanese auto manufacturers with production facilities in the US ran out of those parts that are made in Japan. As they slowed production, it affected steel producers and other companies that make parts for the industry.
Roy Krause, CEO of SFN Group, which supplies temp workers, says his company had a slowdown of business in the Midwest related to the auto industry, but is quick to add that he doesn't foresee a long-term event.
"It could last 30, 60, maybe 90 days," he says. "It's a slowing of growth, but not a retrenching."
In fact, his industry is still growing at about a 9 percent year over year rate, Mr. Krause says. While this is down from about 16 percent last year, "we're still seeing growth," he notes.
The best job areas are white-collar related, he says, where demand is still at a double-digit pace. "There is a disconnect between skilled workers and unskilled workers, which is why it is taking so long to bring down the unemployment rate."
Other factors
This spring, US consumers have had to cope with rising food and gasoline prices. "When prices are up, people buy less of it," says Meckstroth. "We saw a loss of jobs in food manufacturing and employment in the refining and petrochemical industries."
Meckstroth says business may have been overly optimistic early in the year. Manufacturing was growing at 7 percent while the general economy was rising at a 1.8 percent annual rate. "You can't maintain that premium for very long," he says. "We were expecting it to slow to a 4 percent annual rate."
The slow rise in new jobs makes it easier for Federal Reserve Board Chairman Ben Bernanke to keep interest rates low, says Mr. Naroff. "When you get a report like this, who will stand up and say we have to tighten policy?" he says, "It plays into his strategy. His caution on raising rates is paying off."