Top 5 fastest-growing states
After a couple dreary years, the economies of most states began to grow again in 2010. Forty-eight of the 50 states showed a gain in gross domestic product, according to new data from the Bureau of Economic Analysis. (Click ahead to see which two states did not grow.) The US as a whole saw GDP grow by 2.6 percent last year. But some states more than doubled that rate, thanks to gains in durable goods manufacturing, retail trade, finance, and insurance. Here's a look at the Top 5 fastest-growing states: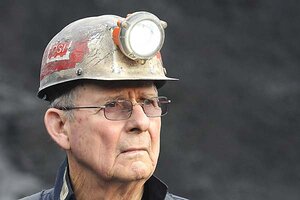 Rick Barbero / The Register-Herald / AP
5.

West Virginia – up 4 percent

With a $56 billion GDP, the state has a small economy, but it is one of the few in the nation whose GDP has not shrunk at all in the last three years. Mining was the biggest contributor to the rise in GDP, though it accounts for less than a quarter of last year's 4 percent increase. After that, real estate was the biggest contributor.