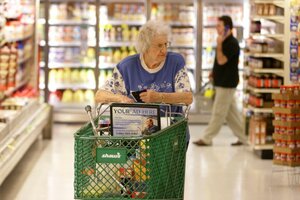 Stephan Savoia/AP/File
2.

Weak consumer spending

Consumer spending accounts for roughly 70 percent of the U.S. economy. If the American consumer doesn't loosen the purse strings, the economy has a hard time growing. Both the Federal Reserve and the government understand clearly the role consumers play in healing the economy – thus the continued Fed policy of record low interest rates and two rounds of quantitative easing to soak the economy in liquidity.

Consumers, however, remain unconvinced and are failing to take the bait. In May, the monthly Consumer Sentiment Index fell to a six-month low as rising food and energy prices continue to pressure family budgets leaving less money for nonessential purchases. Demand from the emerging economies for gasoline and other necessities is likely to keep pushing up the cost of living.