Designer clothes at consignment store prices? Five shopping tips.
During these tough economic times, saving money on clothing and accessories is important. Shopping in consignment stores is one way to do it. You can get high quality designer clothes at affordable prices – sometimes, ridiculously affordable. I once bought a Chanel jacket for $4. The retail price for a brand new one: $1,500. Here are five tips to find designer clothes at consignment store prices: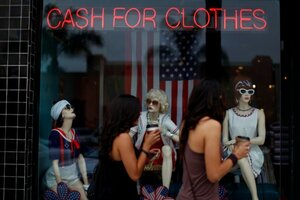 Mike Blake/Reuters
1.

Diversify your search

Visit a wide variety of consignment stores and do it as often as you can. Remember that you're on a treasure hunt and sometimes the least likely places yield the biggest rewards. Stores in major cities usually carry a large variety of designer clothes. Once you've gone prospecting and collected a list of stores, make sure to visit them often. Consignment stores usually get new inventory daily.