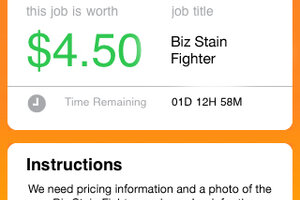 Field Agent
2.

Field Agent

By using a free iPhone app, "field agents" nationwide can find jobs in their area. Agents perform jobs like going into a retail store and snapping a photo of a display, or going to a gas station to note the conditions of the building, signs, or candy display. Companies want to ensure that a display is set up correctly and an aisle in a chain store looks the same in every location. Essentially, agents function as the eyes and ears of a company by completing each job.

"You can say that a product is out of stock, but when you see a picture and see 12 slots out of stock and in disarray … the photos take it to the next level," says John Bull, founder of Field Agent, based in Fayetteville, Ark.

A job generally pays between $3 and $8, but it can pay more depending on the difficulty. Some jobs, like surveys, can be done at home, while others can be found using a built-in Google map.

"It's my favorite secret," says Janelle, a stay-at-home mom who lives just outside Phoenix. "I'll go out in a day and can make $100 in five hours." Since she joined in April this year, Ms. Cavangh has earned $987 and won an iPod touch in one of the company's social media competitions.

"It could not be any easier," says Keith Celia who lives in the Chicago area and has earned $630 since downloading the app. "It's actually kind of fun."

There are currently about 120,000 agents in the US. Field Agent apps are also available for the United Kingdom and Australia.