Tire prices rising. Top 5 tips to make your tires last.
Had to shop for tires lately? Be prepared for higher prices. A tire shortage, caused by plant closings and rising demand for low-volume specialty tires, and the increasing cost of raw materials are pushing tiremakers to raise prices by double-digit percentages. By most accounts, the situation won't end anytime soon. So, extending the life of your tires is more important than ever if you want to save money – and stay safe. Here are my Top 5 tire-care tips to make your tires last longer and perform better: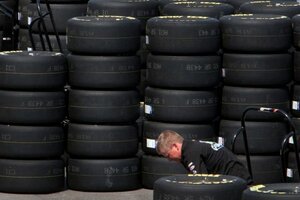 Ryan Remiorz/The Canadian Press/AP
1.

Keep tires properly inflated

Get into the habit of looking at your tires every time you stop for gas. If you spot bulging sidewalls during a visual inspection, this could indicate low tire pressure. You should also check the tire pressure once a month with a quality digital or pencil type pressure gauge. Digital gauges are usually more accurate, but an expensive pencil-type may be better than a cheap digital. Less expensive plastic slide gauges can also work; however, with tire gauges, whether digital or analog, when it comes to accuracy, you tend to "get what you pay for."

On vehicles equipped with a Tire Pressure Monitoring System (TPMS), the warning light on the dash notifies you when a tire is low. Be sure to refer to your vehicle owner's manual or tire sticker on the door jamb for manufacturer-recommended tire pressure settings. Be especially diligent about tire pressure when driving in snow, rain and sleet, since correct pressure is essential to good handling and traction. Remember, by keeping your tires inflated to the proper pressure, you can improve your gas mileage by up to 3.3 percent. Click here for a guide on how to check tire pressure.