McRib is gone. Seven variations you can make at home.
To the dismay of its many fans, the McRib is disappearing from the McDonald's menu. After Nov. 14, McDonald's will no longer offer the pork sandwich nationwide (although some restaurants carry it periodically). Can't wait for the McRib to come back? Take heart. McDonald's' elusuive sandwich is pretty easy to replicate at home. And while you're at it, why not get creative? Here are our Top 7 homemade McRib sandwiches. All are kitchen-tested, although most of these are more fun to talk about than to eat. Have any brilliant McRib creations of your own? Tell us about it!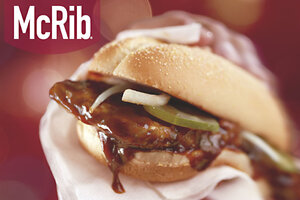 McDonald's/PRNewsFoto/File
1.

Classic McRib

The distinguishing feature of the McRib has to be its pork patty, which, miraculously (or creepily, depending on who you talk to) is boneless, yet shaped like a traditional rack of ribs. These culinary conundrums are manufactured by food wholesaler JTM Food Group, and called the 6'' Boneless Pork Grillin' Ribs.

According to the JTMwebsite, their products are available at most grocery retailers within a 300-mile radius of Cincinnati. If you don't live within 300 miles of Cincinnati, Morningstar's vegetarian "Hickory BBQ riblets" are an acceptable substitute.

You can also use your unfortunate distance from the Cincinnati area as an excuse to make an upgrade in the meat department: a 2010 McRib recipe cooked up by Ryan Adams in Saveur magazine uses pork belly instead of grillin' ribs.

Whatever your meat selection, here's the McRib recipe that will get you closest to the real thing:

Ingredients:

1 JTM brand "Grillin' Ribs" pork patty (or pork belly, etc.)
1 6-inch long white sandwich bun (the cheaper the better)
2 tablespoons Kraft Kansas City style Bull's-Eye barbecue sauce
1 tablespoon chopped white onion
3 sour dill pickle slices

Preparation:

Preheat your griddle or frying pan to 400 degrees F., or medium high heat. Cook the pork element according to package directions. Toast the faces of both halves of the bun. On the toasted top half, apply the barbecue sauce and follow that with the dill pickle slices, spread out evenly. Put the cooked "rib" patty on next, then add the onions, followed by the bottom half of the bun.