Top 15 money games, toys for kids
One of the best ways to teach kids about money is to make it fun. There are plenty of toys and games – even books – that do just that. Here are my 15 recommendations for money toys and games that entertain as well as teach something about how to handle cash, ATM cards, debt, and so on. These money games and toys are age-specific, so click through to the age of the child you plan to buy for. (Descriptions include links to examples from Amazon.com, but there are many alternatives you can find).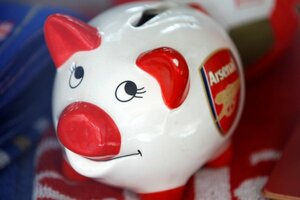 Chris Helgren/Reuters/File
1.

Ages 3-5 – Capitalize on curiosity

Money toys and games for kids in their preschool years are easier to find than you might think.

Piggy banks provide a way for young children to keep their money safe, and to start saving it.

A toy cash register allows children to play with money and learn basic math and money skills.


Money-themed books, such as "Alexander, Who Used to Be Rich Last Sunday" or "A Bargain for Frances," are a great way for parents to spend time with their kids while talking with them about money.