Christmas toys: Five ways to make sure they're safe
More than two dozen Christmas toys on sale this year have too much lead, contain dangerous plastic additives, or pose choking or hearing hazards, according to a recent report from consumer group U.S. Public Interest Research Group (see my blog post on it). But often, the dangers aren't discovered until after the presents are bought and opened. So how can parents ensure that their children's new Christmas toys are safe? Here are five ways to stay informed.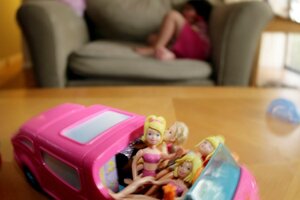 David Zalubowski/AP/File
1.

Sign up for recall alerts for your child's Christmas toys

The U.S. Consumer Product Safety Commission (CPSC) is the regulatory body charged with protecting the public from risks of injuries associated with consumer products, including toys and other children's items. Parents can find out about product safety recalls through a variety of resources, including the commission's website for recalls. By filling in their e-mail addresses on the website, parents can receive an alert whenever a product recall or a safety advisory is announced. You can even tailor the e-mail alert to notify you only when certain types of products are recalled.

Recalls can be announced months after a product is purchased. So it is always a good idea for parents to check recall lists well before and after the holiday season. Before you give your child a gift, cross check it with the CPSC's recall alerts to make sure it has not been recalled. Consumers should also review the CPSC's recall database regularly and long after the holiday season has passed to make sure that their children's Christmas toys and games are safe. If you find that a gift has been recalled, immediately follow the remedy instructions provided in the recall announcement.