Six steps to choosing the best refrigerator
If you've had the pleasure of purchasing an appliance within the last 10 years you're probably aware that things are not as simple as they once used to be. While technology has made many things in our lives easier, choosing the best refrigerator among hundreds of similar models isn't one of them. Family size and lifestyle are only a few of the factors that influence a purchase. That said, armed with the right information and knowing what questions to ask can ease the process of finding the best refrigerator: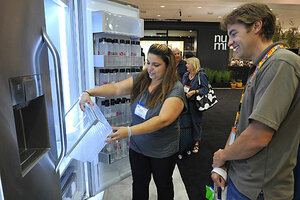 Vince Bucci/AP Images for LG Electronics/File
1.

Choose your size

The first step to finding the best refrigerator is to consider how much storage you need. The key metric is cubic feet. The average fridge for a family of four varies from around 18 to 25. On average, young couples starting out can make do with 18; a large family should think about a larger size. But who's average anymore? If that young couple likes to entertain with large elaborate dinners or plans to start a family immediately, a bigger refrigerator might make sense. If the large family eats out a lot, maybe a smaller unit works.

The other dimensions to consider are the refrigerator's width and height. Typically, models are around 68 inches tall and between 30 and 36 inches wide. Your new fridge has to fit in your kitchen, so measure carefully. And don't forget to measure the size of your doorways as well to make sure delivery and installation go smoothly.