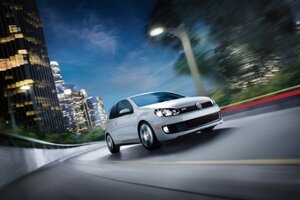 Courtesy of Volkswagen/File
3.

Best upscale small car – Volkswagen GTI

While most upscale small cars focus on performance above anything else, most car reviewers say the 2012 Volkswagen GTI is more well-rounded. It's not a slouch in the performance department, thanks to a 200-horsepower engine and nimble handling, and it has an interior that you and your passengers won't mind spending time in. The materials are upscale and seats are comfortable. You can even choose between two- or four-door models.

With good space for car seats in the back, several reviewers say that the four-door model is great for people who thought they'd have to give up a fun-to-drive car because they have kids. The GTI should also appeal to the budget-conscious: It has one of the lowest prices among upscale small cars.