Clint Eastwood in Top 6 Super Bowl 2012 car commercials (+video)
Sure, the New York Giants won the 2012 Super Bowl. But who won the battle of the Super Bowl car commercials? NBC says advertisers paid an average of $3.5 million for a 30-second spot in this year's Super Bowl. Last year, Volkswagon was the biggest crowd pleaser with their Darth Vader "The Force" ad which got millions of views online before it debuted on TV. This year, the early favorite was Ferris Bueller (aka Matthew Broderick) hawking a Honda. But Chrysler's Halftime in America ad, starring Clint Eastwood, is what everyone is talking about now. Here's one viewer's take on the Top 6 Super Bowl car commercials for 2012. Which is your favorite?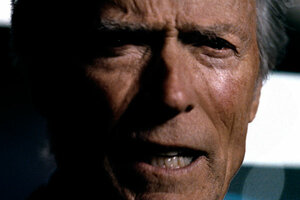 REUTERS/Chrysler
1.

Halftime in America

The gravel-voiced gravitas of Clint Eastwood left us with goose bumps. You expect titillation (GoDaddy.com) and humor (Doritos, Coke) from Super Bowl commercials. But Chrysler delivered authentic emotion. As images of Americans flash on the screen, the director of "Gran Torino," gives a stirring monologue about America's – and Detroit's – ability to come back from hard times: "This country can't be knocked out in one punch," Eastwood, said. "We get right back up again, and when we do, the world will hear the roar of our engines. It's half time, America."

Last year, Chrysler brought us Detroit rapper Eminem, who celebrated Detroit's scrappy, can-do attitude. Like this year's ad, it closed with the statement "Imported from Detroit."