Super Bowl ads: Top 6 best animal commercials (+video)
Super Bowl ads reflect a broader truism in advertising: A cute animal is a better pitchman than a human 9 times in 10 (Peyton Manning aside). Over the years, some of the most successful Super Bowl ads of all time have featured a wide array of animals, from mighty Clydesdales to lowly mosquitoes. Here is our countdown of six of the best ever fuzzy (and not so fuzzy) Super Bowl commercials, including a winner from Super Bowl XLVI. Did your all-time favorite take the top spot?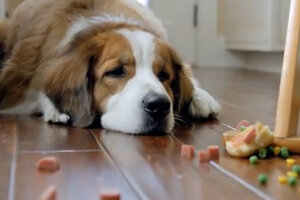 Volkswagen/YouTube
6.

Volkswagen weight-watching dog (2012)

Super Bowl XLVI was yet another big year for ad animals: There was a speedy Skechers-wearing French bulldog, office chimpanzees pitching for careerbuilder.com, and yet another dog with a special talent for serving Bud Lite at parties (that ad did end with a plug for adopting rescue dogs – a nice touch).

But our favorite animal ad this year came from Volkswagen, and this portly canine who resolves to get himself in shape so he can fit through his doggie door and chase the new VW bug . After delivering arguably the most successful Super Bowl commercial of 2011 with "Little Darth Vader," expectations for Volkswagen were high, and the company delivered nicely with this ad.