Bullish on jobs? These 10 cities are.
Nationally, the employment outlook is starting to brighten with a 1.5 percent rise in the number of jobs in the past year. But some metropolitan areas have seen triple that rate of job growth. No, it's not Boston or Silicon Valley. The Top 10 job-growth metros in 2011 were midsize places. Who's No. 1? Here's a hint: Even if you've heard of it, you've probably confused it with a much larger college town in an adjacent state. Here's the countdown of Top 10 metro areas for job growth in 2011: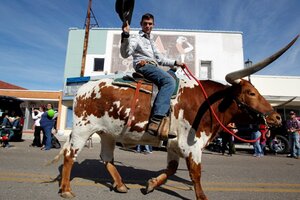 Michael Zamora/Corpus Christi Caller-Times/AP/File
10.

Corpus Christi, Texas: +4.3 percent rise in jobs

Home to a naval air station, army depot, international airport, the fifth-largest US port, and a university campus, Corpus Christi is the largest of the Top 10 job-growth metros with more than 400,000 residents. It has a long record as a reliable producer of new jobs. Last year, Forbes magazine ranked it No. 2 for employment growth among mid-size cities. Oil drilling has contributed directly to the rise with rigs and waterside terminals as well as indirectly, helping to add positions across the service, computer programming, and wholesale trade sectors over the past year. Close to 40 percent of Corpus Christi residents speak a foreign language at home.