International Women's Day: Meet the 10 richest women
The day before International Women's Day, Forbes magazine released its annual billionaires list for 2012 headed, predictably, by men. But this year, 14 of the richest 100 were women. In honor of International Women's Day, here's a countdown of the Top 10, a list that includes a few mining tycoons, a media mogul, and a pair of Wal-Mart heiresses. Which wealthy woman snagged the top spot?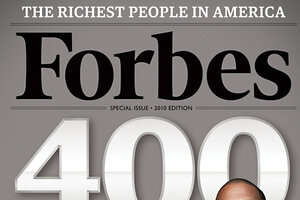 Business Wire/File
10.

Savitri Jindal

Net worth: $10.9 billion

Wealth source: Steel

Overall Forbes rank: #80

Hailing from Hisar, India, Jindal lost nearly 20 percent of her wealth last year due to issues within the family's companies. Jindal is the mother of nine children.