Tax tips: Top 5 reasons to hire a tax pro
Tax tips can take you only so far if you're filling out your own returns. Sometimes, you need a tax pro. Most taxpayers, to the tune of 60 percent, opt to go with a tax professional. That share has climbed steadily: Just 41 percent used a professional preparer 30 years ago. Although a growing swath of the population – about 20 percent – is using tax-preparation software to complete returns, according to the Internal Revenue Service (IRS), it seems that software isn't displacing accountants as much as it's simply becoming the mode of choice for do-it-yourself filers. As the Tuesday, April 17, tax filing deadline nears, here are five cases in which it might be wise to consider bringing a pro aboard: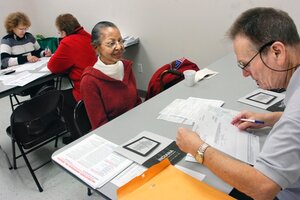 Jeff Morehead/Peru Tribune/AP/File
1.

Expert counsel gives you peace of mind.

Sure, some feel confident only when they've crunched their own numbers and absorbed all the tax tips. Then there's everyone else, from the numerically challenged to those who sleep better knowing a pro stands behind the math. For them, a few hundred dollars for a professional's know-how can feel like money well spent.

Hired expertise has become valuable for Brian Libby, a freelance journalist in Portland, Ore. When he traded a regular wage for self-employment, he wanted more customized guidance on deductions and retirement contributions than he could get from either software or the tax-prep chain he'd previously used. He hired Joseph Anthony, a local tax preparer and enrolled agent (registered to represent taxpayers before the IRS). A former freelance writer himself, Mr. Anthony knew Mr. Libby's line of work – and relevant sections of the tax code – well enough to find savings and offer planning tips.

"Every year my income is a little different," Libby says. At midyear, "I report how I'm doing to Joseph, and he makes an updated suggestion about what my quarterly tax payments should be.… I'd rather [get advice than] be surprised and get a big tax bill at tax time."