Burger King new menu – and more Top 10 changes
Burger King's new menu has a purpose. Last year, Wendy's surpassed Burger King to become the second best-selling burger chain in the United States. It was close: Wendy's had $8.5 billion in sales, while Burger King had $8.4 billion. (Both were miles behind No. 1 McDonald's, at $34 billion). In an effort to regain the No. 2 slot, the chain has undergone a massive makeover, complete with Burger King new menu items, décor, and employee uniforms. Here are the Top 10 changes Burger King has made in the past year, in its biggest overhaul since it first opened its doors back in 1954: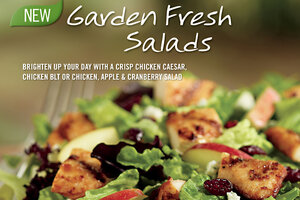 Courtesy of Burger King
1.

Salads

Burger King first unveiled salads in 2002, but the nation's third-largest burger chain has long lagged behind McDonald's and Wendy's in the salad game. Now the Miami-based company is trying to make big changes, including four new "Garden Fresh" salad offerings. The Burger King new menu includes a chicken, apple, and cranberry salad; a chicken BLT salad; the Chicken Caesar salad; and a side salad with mixed greens. All are served with Ken's salad dressings.