10 strange fast food items abroad
Here in the US, fast food can get pretty predictable: Burgers, fries, chicken, and a taco or a fish sandwich – if you're feeling adventurous. Leave it to our international brethren to show us how to loosen up and live a little. Take a look at ten wacky fast food items from around the world. Some will make you scratch your head, some will make you want to skip lunch, and some will make you want to pack it all in and leave the States for a more daring fast food dining experience.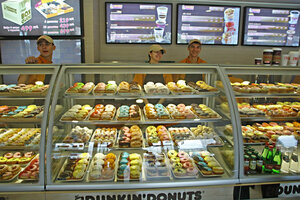 Mikhail Metzel/AP/File
1.

Pork and seaweed doughnut (Dunkin' Donuts China)

When we hear the word "doughnut," a baked good barely distinguishable from dessert comes to mind. But Dunkin Doughnuts is expanding their eponymous offering's image, launching a savory doughnut stuffed with shredded pork and seaweed. So far, the pork doughnut is only available in Asia, where it spearheads an aggressive Dunkin' expansion campaign on the continent. The fast food chain plans to open 100 stores in China alone in the coming year, and has signed a multi million-dollar endorsement deal with NBA star LeBron James to ramp up its marketing campaign.

But why pork? "Doughnuts are a very flexible product," Dunkin Donuts CEO Nigel Travis explained in an interview with Reuters.

Would we eat it?: Yes, but we probably wouldn't pay for it.