Facebook IPO: five things to know before buying the stock
About 1 in 8 people on the planet have a Facebook account. Now, with the arrival of a public stock offering, all those people have a chance to be part owners of this social hub.
Can you really buy this stock? Should you?
Here's a glimpse inside the most publicized initial stock offering in years, including some of the things you should be aware of before deciding to buy shares.
Lots of people want to buy this stock when trading starts this week, for a simple reason: Facebook is one of the most visible companies in the world, where Internet technology meets everyday activities like chatting and sharing photos with friends. Now, for the first time, its shares will be traded on public exchanges – offering the chance for people on the outside to own a stake in the company's rapid growth and rich potential.
This won't be the largest initial public offering (IPO) ever, but it is expected to be the largest ever for an Internet company – raising some $12 billion for the firm and its early investors. When Google went public with similar fanfare in 2004, it raised about $1.67 billion.
At the expected offer price between $34 and $38 per share, the Facebook IPO will imply a market value for the whole company close to $100 billion. (That's because much of the stock held by founders and early investors is not being sold to the public.)
But if Facebook will instantly rank among the stock market's largest high-tech companies, that doesn't mean it's automatically a good buy. In fact, amid all the excitement and anticipation, it could be a money loser for incoming investors.
So do some hard thinking before placing a "buy" order. It may be that your Facebook account is a better deal ("It's free and always will be," the firm says).
The five issues covered here will help you think through this investment decision.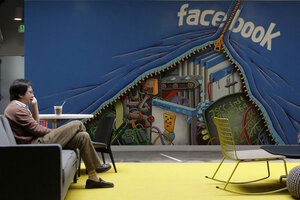 Jeff Chiu/AP
1.

The insiders are the big winners

Remember that when a hot new investment comes to market, the small investor stands last in line. First served by the IPO will be the firm's founders and other investors who took early risks during the start-up phase. They already have a big equity stake in the firm, and they often see the value of their holdings surge as the IPO occurs.

Next at the trough will be financial firms and privileged investors. They can get in at that "offer price" in the neighborhood of $36 per share.

Last, and least, is everyone else.

When trading in Facebook starts on the Nasdaq market under the ticker symbol "FB," financial pros expect the shares to open significantly higher than the official offer price. If that's the case, you'll need to decide whether that higher price feels worth it.