Facebook stock: 6 intriguing investors
Facebook stock will make many people suddenly wealthy when it begins trading this Friday. The company is expected to be valued somewhere around $100 billion, with stock expected to sell anywhere between $34 and $38 per share. In addition to the usual suspects – founder Mark Zuckerberg, Sean Parker, and longtime Facebook employees like Sheryl Sandberg – there are a few ground floor investors who are more off the beaten path. Here are six of the more unexpected people set to make a killing with initial public offering of Facebook stock, including a rock star, a graffiti artist, and pair of Mr. Zuckerberg's enemies.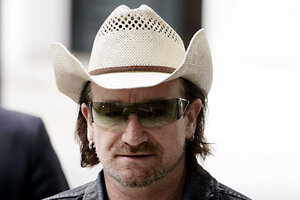 Marcos Brindicci/AP/File
1.

Bono

Bono, front man of iconic Irish rock group U2, was already a millionaire hundreds of times over before the initial public offering (IPO) of Facebook stock was announced, thanks to decades of highly profitable world tours. But early investment in the company through his private equity firm could make him far and away the richest rock star in the world (surpassing Paul McCartney, Elton John, and Mick Jagger, among others).

Bono is one of the managing directors of Elevation Partners, which bought a 1.5 percent stake in Facebook for $90 million in 2009. Since then, Elevation Partners' share has grown to 2.3 percent, via additional investments. The Facebook returns will be divided among the firm's investors and partners, including Bono.

Editor's note: This item has been updated.