Donald Driver wins 'Dancing with the Stars.' Five lessons you can learn.
Donald Driver was crowned "Dancing with the Stars" champion Tuesday night, capping one of those quintessentially American rags-to-riches from childhood homelessness and petty theft to NFL star and Super Bowl champion with the Green Bay Packers. He's learned a lot in his life and, if my experience is any indication, learned even more from his latest dancing experience. Over the 14 seasons of "Dancing with the Stars," many contestants have talked about the life-transforming benefits of ballroom dancing, including weight loss, increased self-confidence, a sense of pride in accomplishing something they've never done before, and, importantly, joy. Ballroom dancing has made me a happier woman, a better partner, a smarter chief executive officer, and now author of a book on the business and life lessons learned from ballroom dancing. Here are five lessons the ballroom world has to offer everyone: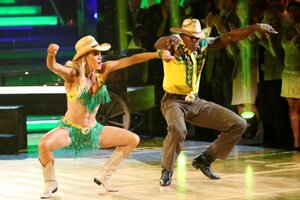 Adam Taylor/ABC/AP
1.

Like Donald Driver, be fully present – mind, body, and spirit

Donald Driver is known as one of the toughest receivers in the NFL. That means he's willing to ignore distractions and fear to execute his plays. Dancing is similar (well, except for the tackles). To dance well, you execute your present step full out and fearlessly. It's your best guarantee that you will produce a great next step. Beating yourself up over a misstep, i.e. being stuck in the past, has the domino effect of imperiling your present and future step.

Off the dance floor I learned how much more powerful I could be in business by being fully present and not trying to multitask when someone else is talking. We've all been guilty of this. In any meeting, half the group is usually answering e-mails on their smartphones. They're half paying attention and consequently, only getting half the information (verbal and nonverbal) they need to make the best decisions and provide the most informed counsel to colleagues and clients.

Being fully present in a discussion, whether in your personal or professional life, results in better communication, better connections, and better partnering.