Facebook IPO: Six key dates in its debacle
Facebook's first week as a publicly traded company will go down as a terribly botched corporate launch, perhaps one of the worst in recent history for such a highly visible entity. Eight days ago, it was the tech world's most highly anticipated initial public offering in eight years. Now, the social media company faces mounting legal woes and serves as an embarrassing example of how not to run an IPO. Despite rising insider pessimism about its growth prospects, Facebook kept boosting its asking price and the number of shares it would sell. The result: billions of dollars in losses; investigations by two congressional committees, the Securities and Exchange Commission (SEC), an industry watchdog, and the state of Massachusetts; at least 13 class-action lawsuits; and thousands of resentful shareholders who days later still were unsure how many Facebook shares they had or at what price. Here are six key dates in Facebook's unfolding IPO disaster.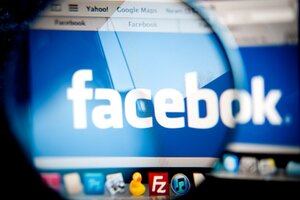 Timur Emek/dapd/AP/File
1.

Facebook IPO announced – Feb. 1, 2012

Facebook IPO is announced and becomes the most anticipated public launch of a technology company since Google in 2004 and also the largest Internet IPO in history. Google had raised $1.67 billion in its IPO; Facebook hopes for $5 billion.

The filing generated plents of hype, especially in California, where the company is headquartered. "If it is as big as it is being billed, then on behalf of a grateful state, I will go to Mark Zuckerberg's house and either wash his windows or mow his lawn," says Gov. Jerry Brown's finance spokesman.

But many Wall Street analysts are skeptical, saying that despite its growth potential the company is valued too highly. In the three-year run-up to its IPO, Google had seen profits grow at a 289 percent compound rate and sales grow 312 percent (from $86 million to $1.47 billion). In the three-year run-up to the Facebook IPO, the social-media giant has grown more slowly: a 109 percent rise in profits and 119 percent in sales (from $777 million to $3.71 billion). Moreover, Facebook has reported a 9 percent fall in profit for the first quarter of 2012 and its smallest sales increase (45 percent) in several years.

"If this comes out anywhere near – forget $100 billion – if this comes out at $75 billion, how much upside is there?" Barry Ritholtz, chief executive of stock-research firm FusionIQ, asks on a Bloomberg TV interview the following day. "You know, you look at Google, which generates about $30 per user in total revenue. Facebook is in the $2 to $4 range."

The company will eventually price itself at $104 billion, the first time a company has valued itself at more than $100 billion at its IPO, aiming to raise $16 billion.