Credit cards: Top 4 tips for retirees
Credit cards make sense in retirement, as long as you don't slack off on managing your credit. Seniors who maintain a healthy credit history and high FICO scores will benefit – not only from low interest rates and better terms on loans, but also from leveraging lucrative credit card sign-up bonuses to earn thousands in free travel, cash back, or other merchandise. The key is to use credit cards responsibly. Here are four tips on how to use your credit cards in retirement: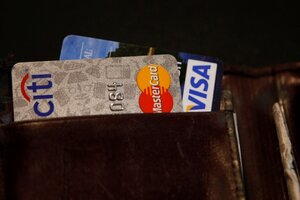 Stelios Varias/Reuters/File
1.

Credit cards take a back seat to retirement budget

Credit card debt is something seniors should try to avoid in retirement. High interest charges can quickly eat away at fixed incomes and make it extremely difficult to ever dig out of debt.

Nevertheless, many retirees continue holding onto card debt. Some 37 percent of households headed by an individual age 65 to 74 carried a balance, according to the Federal Reserve's 2009 "Survey of Consumer Finances."

To protect yourself, take a close look at your budget and adjust credit card spending habits so they're properly aligned with your retirement income. And don't forget to always pay your credit cards in full and on time each month.