What recovery? Top 10 cities losing jobs
Unemployment rates were lower in April than a year earlier in 342 of the 372 US metropolitan areas, according to the latest figures from the Bureau of Labor Statistics. But for some regions, talk of a recovery is more wishful thinking than fact. So which areas continue to struggle? The winners, or losers, according to the BLS, include the Carpet Capital of the World, the home of an Ivy League university and a proud military town. Click through to see which metropolitan area got the top (or bottom) spot.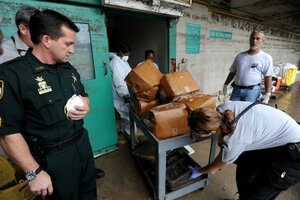 Ben Twingley/The Pensacola News Journal/AP
10.

Pensacola, Fla.: -2.8 percent loss of jobs

Located way up in the far right corner of Florida's panhandle, the Pensacola-Ferry Pass-Brent metropolitan area should be on the rebound. Last year, its important tourist industry waited anxiously to see if tourists would return to its beaches after all the publicity from the BP oil spill. They did, in droves, and the spring and summer seasons were off to a strong start. But since then, the rebound has lagged. The metro area is comprised of Escambia and Santa Rosa counties, with Pensacola designated for the principal city for the region.

Tourism is a big industry in the region, but since then its recovery has lagged. Sure, its unemployment rate fell by more than a percentage point from April 2011 to April 2012, but Florida's overall average has fallen nearly 2 percent and is quickly catching up with Pensacola: 8.3 percent statewide vs. 7.9 percent for the metro. Moreover, a large part of that improvement was because of a fall in Pensacola's labor force. While two in three metro areas in the United States saw the number of jobs increase, the number of jobs in greater Pensacola actually decreased – down 4,600, a 2.8 percent decrease in employment. This makes the region No. 10 in job loss among metros with a population of at least 100,000 inhabitants.