Student loans: 5 steps to pay down your debt
Student loans should be paramount in your mind if you've recently graduated college. The school halls are empty, the weekly speeches for your English class are complete, and you're cleaning up after your graduation party. Now comes the hard part: paying for the education that you've just completed. Where to begin? Collect all your loan paperwork and then follow these five smart steps to paying off your student loans.
– Maura Kastberg is a financial-aid expert and director of student enrollment at RSC, Your College Prep Expert, a college- and career-prep service based in Schenectady, N.Y.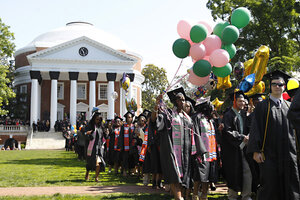 Sabrina Schaeffer/The Daily Progress/AP/File
1.

Break it down

Student loans can be daunting at first glance, but the more you can compartmentalize the process, the easier paying them down gets. The first step is to break down your student debt into three sections: federal loans, private loans, and loans that may be eligible for loan forgiveness. It's important to keep these separate, especially if you are trying to save money through loan forgiveness or consolidation.

Once you've separated out your student loans, it will be easier to prioritize your debt. When paying off debt, pay off your credit card debt first (this debt is the most expensive). Next, pay off your loans from private lenders. These loans typically have a variable interest rate. Even though the current variable rate is low, this could change dramatically as the economy improves. Then pay your federal loans. This will give you the most savings long term.

When setting up your repayment, you can get a slightly lower rate if you opt for automatic payments to be deducted from your bank account. Using your tax refunds (don't forget to deduct your student loan interest) or taking a part-time job are good ways to pay down your student loans.