Summer travel: 5 great travel rewards programs
Summer travel season is here, which begs the question: What type of traveler are you? It's an important question if you have excellent credit. The answer determines how you'll receive the credit card bounty that can help you save a bundle on a trip this summer (or help your bank account recover afterward). You can thank the Great Recession for all those points, miles, or cash. Issuers learned that consistent customers – those who always pay their bills on time – help steady the ship when the economic seas turn rough. To attract these folks, companies are offering signing bonuses that amount to hundreds of dollars. You just have to know which offer best suits your needs. Of the more than 1,000 credit card offers we screened, here are the best travel credit cards for five different types of vacationers: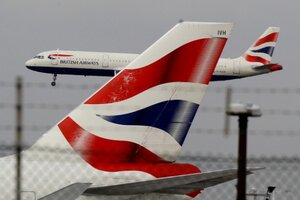 Kirsty Wigglesworth/AP/File
1.

Frequent flyers

Whether your summer travel destination is domestic or international, the British Airways Credit Card is an attractive offer. It gives you enough bonus miles after your first purchase to score a free roundtrip transatlantic flight or up to three cross-country domestic flights, through a partnership with American Airlines. You can even double your gains by spending $20,000 on the card during the first year. That and the lack of foreign transaction fees are enough to make the $95 annual fee seem inconsequential.