Anthony Davis eyebrows licensed: 5 strange pro sports trademarks
Anthony Davis eyebrows are about to make their NBA debut. Davis, the presumed first overall pick in the 2012 NBA Draft, won't take to the court as a New Orleans Hornet for several more months. But when it comes to his eyebrows, he's already handling his business affairs like a professional. He's trademarked catchphrases to go along with his unmistakable unibrow. Davis is just the latest in what has been a landmark year in licensing pro sports catchphrases and memes, from "Linsanity" to "Tebowing." Read on for a few of our favorites, plus an enduring trademarked phrase now commonplace in the sports lexicon. Want to use the term "three peat? You'll have to pay a certain NBA coaching legend.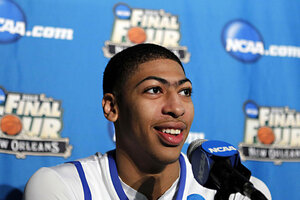 Gerald Herbert/AP/File
1.

'Fear the brow' - Anthony Davis

Anthony Davis' eyebrows have gone pro. During the NCAA tournament last March, the most famous unibrow since Bert's on "Sesame Street" struck fear in the hearts of every team who faced Davis and the formidable Kentucky Wildcats. Davis won the NCAA Tournament Outstanding Player Award, and the Wildcats cruised to a national title. He then immediately declared himself eligible for the 2012 NBA Draft, becoming a virtual lock as the first overall pick for the New Orleans Hornets.

And now his trademark north-of–the-nose facial hair is, literally, trademarked. Earlier this month, Davis filed paperwork with the United States Patent and Trademark Office for exclusive rights to the phrases, "Fear the brow," and "Raise the brow."

Davis unibrow merchandise isn't anything new: During the NCAA tournament, "Fear the brow" T-shirts became a common sight in Wildcat crowds, though merchandise featuring Davis's name or number was forbidden because of his student status. But now, Davis can enjoy the financial rewards from keeping his brow thick and full. The only losers here: tweezers manufacturers looking for a celebrity spokesman.

If the trademark is approved, Davis retains the rights to royalties from any company that uses his unibrow on retail merchandise. While licensing a catchphrase can seem like sheer vanity on the surface, it's a smart earnings move for athletes, who have a limited window of fame and playing time in which to make money.