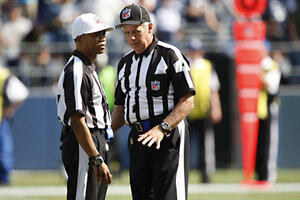 Kevin P. Casey/AP/FIle
3.

Extra officiating crews

In order to reduce the strain and travel schedule of the existing referees, the NFL wants to add more. Currently, there are 17 officiating crews – one for each possible game per week, plus one alternate. The NFL wants to add three, bringing the total to 20 crews and 140 referees. This would improve the quality officiating, they say, because it would allow them to groom more refs, root out officials who are performing poorly, and ease rookie refs into NFL officiating. The referees feel their pay, and job security, would be affected.