Who are the 10 richest members of Congress?
For the first time this year, the richest member of the US Congress had a a net worth of more than $300 million. The 2012 list includes Senate and House Democrats and Republicans hailing from all over the United States. In 2012, about half of the 50 wealthiest members of Congress reported a lower minimum net worth than last year, which Roll Call attributes to new mortgage disclosures.
Here is CNBC and Roll Call's countdown of the 10 wealthiest members of the 112th Congress. Can you guess which political party had the most members on the list – and who grabbed the top spot?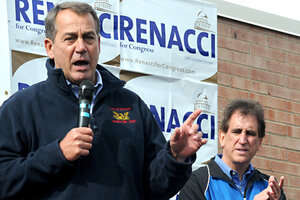 Stan Myers/The Repository/AP/File
10.

Rep. Jim Renacci (R) – Ohio

Minimum net worth: $36.67 million

Renacci's minimum net worth remains relatively unchanged from the year before, rising just slightly to $36.67 million.

The first-term Ohioan's portfolio is one of the most diverse in Congress. Renacci reports having significant investments in fast-food chains, consumer electronics companies, drugmakers and oil giants.

Renacci has a stake in the Lancaster, Calif.-based minor league baseball team, the JetHawks, worth $100,000 to $250,000 and loaned the Westerville, Ohio, Gordy's Bar and Grill at least $250,000 in 2010. An investment in a Harley-Davidson dealership dropped in value from at least $500,000 in 2010 to about $4,400 in 2011.

Renacci is one of a handful of members of Congress who opted to disclose the exact value of many assets instead of reporting them within broad ranges. He listed $26,000 in Lululemon Athletica, $89,000 in McDonald's and $281,000 in Chevron stocks, among hundreds of financial holdings.

Renacci has a line of credit of $1 million to $5 million with his primary investment manager, Raymond James and Associates.

What determines the lawmakers who make the list? Rankings are based on minimum net worth based on assets and liabilities that are cited in broad ranges, so the actual net worth of each representative is not precise.

Roll Call determines net worth by consulting the annual financial disclosure reports from all House and Senate lawmakers, and for each one, subtracts the total minimum value of all liabilities from the total minimum value of their assets.

These disclosures can include assets and liabilities, loans and credit card debt, stock holdings, rental properties, mortgages (reported for the first time this year) and more, but other factors like the values of personal properties and retirement savings are not counted in their assets.