Seasonal work: Six tips for snagging that temporary job
When it comes to quickly adding hundreds of thousands of workers to payrolls, nothing does the trick quite like the holidays. Retailers hire hundreds of thousands of employees in the final three months of the year, according to Challenger, Gray & Christmas, a Chicago-based outplacement firm. How does one take advantage of this coming hike in opportunities? Experts offer this advice: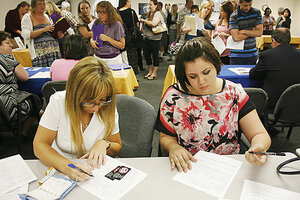 Octavio Jones/The Tampa Bay Times/AP/File
1.

Apply early for that temporary job

If you think you can wait until November to get a seasonal temporary job, you're going to be missing out on a lot of opportunities," says Courtney Moyer, public relations manager at employment website Snagajob, in a telephone interview. More than half of hiring managers expect to fill their holiday positions by the end of October or sooner.

In 2012, some 63 percent of hiring managers said they planned to bring on additional help this year, according to a holiday hiring forecast from Snagajob. That's up from 51 percent in 2011.

Toys R Us announced in late September that it plans to hire 45,000 seasonal employees this year – 5,000 more than in 2011 – in positions ranging from managerial roles to sales associates to inventory workers.

Macy's Inc. expected to bring on 80,000 temporary sales associates, a nearly 50 percent increase in the number of sales associates it has on a year-round basis.