Black Friday 2012: 5 apps to help you shop
Venturing out to shop on Black Friday 2012? You'll need all the help you can get. These five smartphone apps will help you sniff out the best deals, stay organized, and buy the right gifts for you and your loved ones. All five of these essential apps average four out of five stars in customer reviews on iTunes, and all of them are free (you'll be spending enough money as it is). Happy shopping!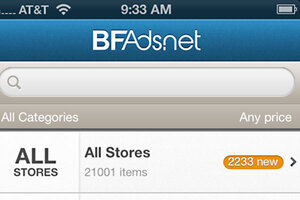 Screenshot from BFAds
1.

BFAds

Best for: Research in the days leading up to Black Friday weekend

Available for: iPhone, iPad, and Android

The BFAds.net website posts and catalogs Black Friday ads from just about every store you can think of, usually before they hit newspapers. Their app has the same access, allowing you to browse the Black Friday deals of every store ahead of time. You can also narrow your search to specific items, and compare prices between stores. The app will send push notifications when new Black Friday ads are released, and when online sales on Amazon and other vendors go live.

Cool feature: The "hot deals" tab in the News feed, which lists real-time bargain releases on a wide range of products (and not just for Black Friday). At the time of this writing, deals included a Blu-Ray box set of all eight Harry Potter films for $43.50 from Amazon UK and a free game download from XBox Live Marketplace. The deals are updated year-round. Click here to get the apps.