Top 10 cars with the best resale value
A new car starts depreciating the minute it's driven off the lot. According to a 2008 Edmunds survey, the average vehicle loses a third of its value in two years. But these 10 models get high marks for retaining their worth, making Kelley Blue Book's Top 10 list of 2013 models with the best resale value. Can you guess which auto came out on top?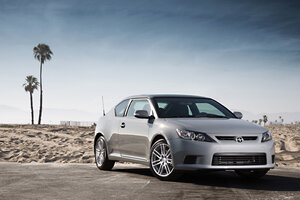 Scion Newsroom
10.

Scion tC

MSRP (manufacturer's suggested retail price): $20,000

Resale value after 36 months: 60 percent of price when new

After 60 months: 46.5 percent

The smallest car on the list, and one of the cheapest, the gasoline-powered, two-door tC is historically the Scion brand's top-selling model. It's a solid performer in terms of gas mileage, too, averaging 31 miles per gallon (m.p.g.).

What makes for good resale value? Keeping your car in overall good shape, for one, and keeping the mileage low. Other factors can include brand (the more recognizable, the better), color (stick with neutral colors like black, white, and tan; hold off on the fiesta orange), and overall popularity.

The prices listed are mostly base prices for new automatic transmission vehicles, before any features are added on.