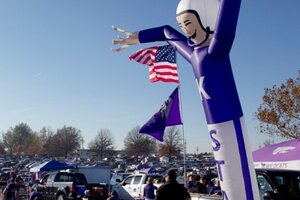 Orlin Wagner/AP/File
8.

Manhattan, Kan.: +5.2 percent

Manhattan is home to Kansas State University, which is the largest employer in this college town. Much of the metro area's job growth stems from the university connection. In September, the US Commerce Department announced a $458,000 grant to the Kansas Wheat Commission to expand biotechnology research into wheat, in conjunction with Kansas State's own wheat biotech facilities. The grant is expected to create 50 new jobs. A federal anti-terrorism biotech lab under construction should add 250 to 350 employees when it opens in 2014.

Housing sales are on track to rise nearly 13 percent this year and, with 3 percent growth projected next year, hit a record high, according to a recent university report. New home construction is on track to grow 26 percent this year.