The '9-1-1' scooter and other worst toys for Christmas
This year's list of the worst toys includes those that assault your senses and those that assault your sanity. From annoying, noisy toys that you want to hurl against the wall to just plain scary ones, this list may leave you wondering if aliens – or worse, teens – have taken over research and development at the toy companies. Some of these items might make perfect gifts … for that niece or nephew who lives far, far away. Can you guess the worst toy of 2012?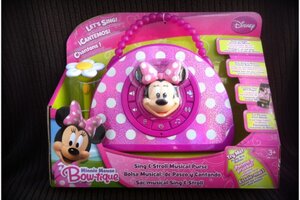 Leanne Shirtliffe
8.

Minnie Mouse Bow-tique Sing & Stroll Musical Purse

One of our Top 8 worst toys for Christmas – and winner of our Noisy Award – is this Disney Junior portable stereo disguised as a purse. Not only does the Sing & Stroll Musical Purse come with the loudest, most annoying Minnie Mouse songs, but children can also "Minnie-Mouse-ify" their voices, giving them that high pitched squeal that makes parents search for mouse traps. If that isn't enough, the daisy-shaped microphone can break, which – come to think of it – may not be a bad thing, except for the fact that parents have spent $29.99 on it.