Ten great car gifts for the drivers on your holiday list
Car-related gifts are a great way to say thank you during the holidays. Is there a family member who serves as taxi driver for everyone else? An at-home mechanic? A sports buff? There's something for everyone. Click through this list for some great ideas for all ages and budgets.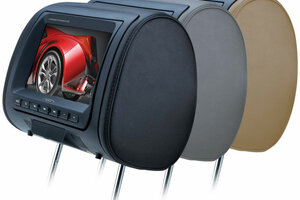 Courtesy Boss Audio Systems
1.

For the family taxi driver: Headrest DVD players

When your children outgrow the smiley-face steering wheel, you can still keep them quiet with a nice, educational DVD. Would I date myself too much by suggesting "Bill Nye The Science Guy"?

Headrest monitors used to be reserved for premium luxury cars and custom vehicles on MTV Cribs, but now they're available at Walmart. Before you comment about the superior economics of portable DVD players and iPads, there are still those out there who prefer the aesthetics of integrated in-car entertainment. Besides, you might need to save the batteries on those portable devices for the long weekend at grandma's.