100 richest people: Meet the 10 richest Americans
The 100 richest people in the world got even richer last year, to the tune of an extra $241 billion in net worth, according to Bloomberg's Billionaires Index, updated daily. Leading the charge were Americans, who currently occupy five spots in the top 10 and 17 slots in the top 40. Here's a countdown of the 10 wealthiest people in the United States. The list features a casino mogul, software tycoons, and a lot of Wal-Mart money. Can you guess who took the top spot?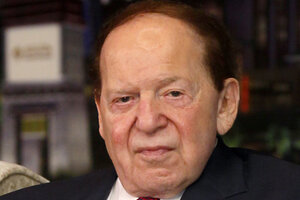 Kin Cheung/AP/File
10.

Sheldon Adelson

Net worth: $24.3 billion

Wealth source: Casinos

Residence: Las Vegas

World ranking: 19th

Mr. Adelson is the majority shareholder of Las Vegas Sands, the largest casino chain in the world and a brand that has expanded from the US abroad into Macau and Singapore. Last year he made $852 million in a single deal, selling his Interface conference company and using the money for the Venetian resort in Las Vegas. He is currently the 19th richest person in the world.

But lately, Adelson is probably best known for his political donations. He contributed $5 million to Republican Newt Gingrich's presidential campaign this past election; overall, he is believed to donated an estimated $30 million to Republicans in 2012.

Last year was a great year for billionaires. As of Dec. 31, the Bloomberg's Top 100 was worth a collective $1.9 trillion. Retail and telecommunicationfortunes were especially profitable, surging 20 percent on average. Only 16 billionaires out of 100 recorded a net loss last year.

Most billionaire lists, including Forbes's, update annually. Bloomberg's Billionaires Index is unique in that it updates billionaires' net worth daily at 5 p.m., so it is more of a living, breathing document. But the list does have one glaring omission: It's the publication's editorial policy not to report the finances of its parent company, Bloomberg LP. That means billionaire New York City mayor Michael Bloomberg is noticeably absent. He was No. 10 on Forbes's list of the richest Americans last year, with a net worth of $25 billion (calculated in September 2012). If that figure still holds, he would be the 10th richest American on the Bloomberg list and the 17th wealthiest person overall.