Savings: 5 signs Americans are forgetting the lessons of 2008
After a period of belt-tightening in 2008, when Americans boosted their personal saving rate to a 15-year high, the annual rate has fallen again, from 5.4 percent to just 3.9 percent. Are consumers letting their guard down? Declining savings is one of five signs that American households are forgetting the lessons of the Great Recession: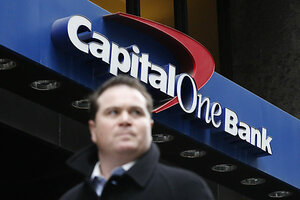 Brendan McDermid/Reuters/File
1.

Saving rate remains near historic lows

Throughout the 1970s and early 1980s, personal saving (income less taxes and spending) as a percentage of disposable income was consistently above 10 percent. Then, sometime around 1985, it began a steady decline towards an all-time low of 1.5 percent in 2005. The jump in savings around 2008 made it appear as if things were heading in a new direction, but consumers failed to maintain that same level of fiscal constraint. The personal saving rate has since declined 1.5 percentage points in a span of four years.