Secured credit cards: Get beyond these Top 5 myths
They are often derided as tools for consumers with horrible credit who get them at high interest rates from predatory lenders. But in the majority of cases, secured credit cards can be a great credit-building tool. The trick is to separate fact from fiction. Here we debunk five myths to help you understand how to use secured credit cards to your advantage.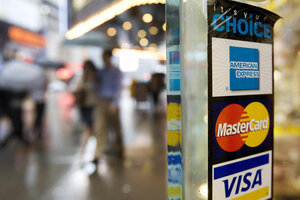 Mark Lennihan/AP/File
1.

Myth: Secured cards are for consumers with bad credit

As the name implies, the cards are guaranteed. You secure them by putting down a deposit with the lender that is equal to the credit card's limit. This arrangement greatly lessens the risk for lenders because, if you default, they have your deposit. So even if your credit is horrible, you can usually get a card. Secured cards are actually for all kinds of people, including those who are getting their first credit card and building credit history, as well as those who may have gone through a personal bankruptcy and are now rebuilding their credit. With the right kind of secured card you can build or rebuild your credit just as easily as you can with a traditional credit card. In fact, secured cards are not reported any differently on your credit history than regular credit cards. Creditors have no way of knowing that the card on your report is secured.