Daily deal sites: Beware these five things
While they're still relatively new, daily deal sites such as Groupon, LivingSocial, and Woot offer substantial discounts on everything from restaurant meals and kids' clothes to car detailing and getaways. Such websites are certainly worth signing up for to receive the latest news on deals and vouchers. However, if you're not careful, these bargains may end up costing you in the long run. Here are five things to keep in mind to help you save money: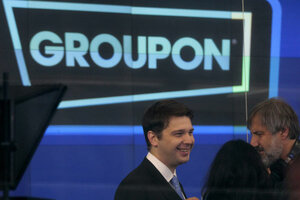 Brendan McDermid/Reuters/File
1.

Deals always have expiration dates

All coupons from daily deal websites eventually expire, so if you purchase a voucher, make sure you redeem it before the expiration date. Most sites offer a refund of sorts, but it typically comes only in the form of a credit for a future deal. If you do forget to redeem a voucher, many merchants accept the coupon at the value you paid, so you at least don't lose your initial investment.