Five ways to get the most from your credit card
In an age of debit cards and easily accessible cash, credit cards should be obsolete. But they still exist, because too many consumers spend money they don't have. Credit card companies have also had to think hard about how to keep their other customers, those who don't overspend, using their plastic. Their answer: incentives. Here are five incentives you can use to get the most out of your credit card: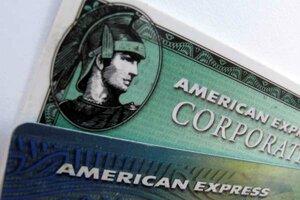 Mike Blake/Reuters/File
1.

Cash-back rewards

Cash-back rewards programs offer you a rebate in the form of a check or statement credit when you purchase with your credit card. The American Express Blue Cash Preferred card, for example, offers 6 percent cash back on groceries, 3 percent on gas, and 1 percent on all other purchases. The card comes with a $75 annual fee, so you should weigh that charge against what you expect to earn in rebates before you apply.

Use your card responsibly and pay your bill in full every month to ensure you're getting the better end of the bargain. Rewards can be a wonderful incentive to sign up for a credit card, just make sure you manage yours effectively.