Liberty Reserve money-laundering case: five questions answered
Federal law enforcement has charged Liberty Reserve, a digital currency provider, with running a $6 billion digital money-laundering scheme. Prosecutors are calling it possibly the biggest money-laundering case in US history, and one that marks several firsts in the way cyber-finance is policed globally. Here five basic questions about the Liberty Reserve case, answered: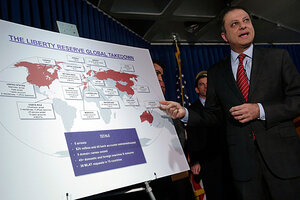 Richard Drew/AP/FIle
1.

What is Liberty Reserve?

Before being effectively shut down, Liberty Reserve was a digital currency service, similar in function to PayPal, that allowed for anonymous monetary transactions on the Web. Unlike traditional banks and legitimate online commerce sites, Liberty Reserve's users could set up accounts using fake names and unverified personal information – all they needed was an e-mail address. It was, prosecutors say, designed as a way for criminals to process money quickly, conveniently, and undetected. "If Al Capone were alive today, this is how he would be hiding his money," said Richard Weber, head of the criminal investigation division of the Internal Revenue Service (IRS), at a New York press conference that involved members of the Justice and Treasury departments, Secret Service, and Homeland Security.

The company was incorporated in Costa Rica in 2006 and operated "essentially as a black market bank" Manhattan US attorney Preet Bharara said at the press conference. Over a seven-year span, Liberty Reserve allegedly hosted about 55 million transactions totaling $6 billion related to criminal activity, including "credit card fraud, identity theft, investment fraud, child computer hacking, child pornography, and even narcotics trafficking," Mr. Bharara said.