Up to 6 percent cash back on almost anything? A three-step credit card strategy.
It's easy to find a credit card that will give you higher rewards on a given category like travel, supermarkets or gas stations. But what about all of the other places you shop? We've developed the following strategy at CreditCardForum.com, which allows you to earn up to 6 percent cash back almost everywhere. Best of all, you can accomplish this using just one or two different cards. This technique is geared toward those who have good or excellent credit (because they qualify for the best rewards cards) and pay off their balances in full each month (otherwise, the value of any rewards will almost certainly be outweighed by finance charges). Here's our three-step strategy: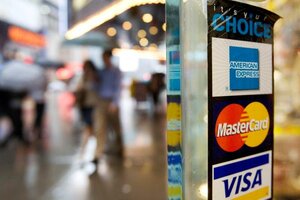 Mark Lennihan/AP/File
1.

Focus on the magic categories

Start by getting a rewards card that includes what I like to call the magic categories; supermarkets, drugstores, and office supply stores. This holds true even for people who never buy groceries, have no need for office supplies, and rarely shop at drugstores. How can that be possible? Because these three places often sell gift cards for other places, too.

Among the cards to consider: American Express Blue Cash (or Blue Cash Preferred with a $75 annual fee); Chase Freedom or Ink business cards; and Discover It.