Flipping a house? The 10 best cities for flippers.
The housing market is poised to once again become fertile ground for flippers in 2013. House prices are rising, inventory is tight, and a wide availability of distressed homes in some cities make prime targets for seasoned investors with cash on hand. Foreclosure listings site RealtyTrac has compiled a list of the best metros for flippers, based on gross profit percentage on single-family homes in 2012. These are the Top 10. Can you guess which city is No. 1?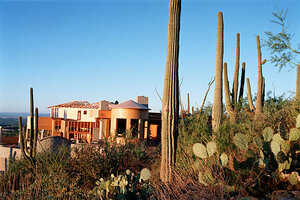 Alfredo Sosa/Staff/File
10.

Tucson, Ariz. (34 percent gross profit)

Total housing units: 438,892

Single-family flips: 1,071

Average pre-flip purchase price: $117,337

Average flipped price: $156,685

Like Arizona on the whole, Tucson's market was left in shambles after the housing bust. One in 4 homes in Arizona are currently underwater, making its metros ideal for investors to snap up real estate for rentals and resale. Prices are rising, but they are still quite low: The median home price for the Tucson area is $172,000.

Two factors make a market prime for flippers. The first is rapid price appreciation, currently being seen in cities in Arizona, Nevada, and parts of California with housing markets that have nowhere to go but up. The second is a high number of foreclosed properties, which seasoned real estate investors can buy outright at auctions and flip for big profits. Tucson, for instance, also ranked ninth on RaltyTrac's list of the best cities to buy foreclosure homes.

When it comes to flip markets, two states dominate the others. 11 of the metros on RealtyTrac's top 25 list were in California. But Florida dominated the top 10, boasting five of the top 10 metros for flippers.