Seven rules for tech investing
In light of the dazzling recovery of the stock market, the dark days of 2008-09 are a fading memory for many investors. The Dow Jones Industrial Average has hit new highs in 2013. So has the Standard & Poor's 500 index. Nevertheless, the tech sector is still spooked by an earlier market implosion, the dot-com bust in the early 2000s, which caused the Nasdaq to plunge 77 percent (versus a 57 percent drop in the S&P during the financial crisis). Many tech investors have never fully recovered those losses. That experience has taught technology investors to develop a set of guidelines to avoid wild speculation. Here are seven rules for high-tech investing: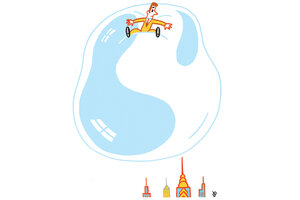 Phil Marden/The Christian Science Monitor
1.

Don't get caught up in the hype

Just because your friends are talking up Facebook doesn't mean you should buy it, says Brian Frederick, a certified financial planner at Stillwater Financial Partners in Scottsdale, Ariz. "What might make a great user experience might not make the best investment."

"One of my earliest professional memories was talking to a prospective client who had lost in the six figures by day trading when the Internet bubble burst," he adds.

Financial adviser Warren Ward of Columbus, Ind., puts it this way: "Think twice about buying a stock that's in the headlines. The endorsement of a movie star doesn't guarantee a successful investment."