Five high-paying jobs for high school graduates
Americans have a near-religious belief that you have to go to college to be successful, but the post-recession, still-evolving U.S. economy is testing that conviction. Opponents of "everyone must go" cite surveys that show 52 percent of college graduates under age 25 are working in jobs that don't require a four-year degree. Two-thirds of those graduates leave school with an average of $27,000 in student loan debt. There also is the simple math that 70 percent of the working people have nothing more than a high school diploma to show employers, yet they still get a job. That group includes well-known entrepreneurs like Steve Jobs, Mark Zuckerberg, Bill Gates, Michael Dell, Walt Disney, Oprah Winfrey, Rush Limbaugh, Richard Branson (Virgin Airways), Dave Thomas (Wendy's restaurants), and David Oreck (Oreck vacuums).
Granted, these are exceptional examples of achievement, but there are many jobs available for people with nothing more than a high school diploma. The average salary for people with a bachelor's degree is $51,206. Here are five jobs that offer high school graduates a chance to earn more than that, sometimes much more: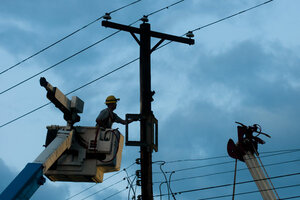 Jake May/The Flint Journal/AP/File
1.

Electrician

With homes and offices increasingly dependent on wiring for all sorts of electronic devices, becoming an electrician is an increasingly prestigious and well-compensated job. The median income has risen to $59,179, according to Salary.com, with the average salary being around $49,000. The Bureau of Labor Statistics projects a 23 percent rise in jobs for electricians between 2010 and 2020. Training is available at some trade schools, but most electricians start with a four-year apprenticeship program that includes class work and on-the-job training to receive a license, which most states require.