Bitcoin FAQ: 7 semi-clear answers to your questions
It can be difficult to wrap one's head around the concept of Bitcoin and other 'cryptocurrencies.' Trust us, it's a challenge to explain it clearly, too. Here's a primer, for the uninitiated, on what Bitcoin is and how it works.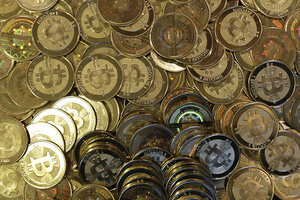 Rick Bowmer/AP/File
1.

What is Bitcoin?

Bitcoin is virtual cash that can be used among friends or between customers and merchants – anywhere ordinary money is spent or exchanged. It exists as digital information rather than physical money: Each bitcoin is a string of mathematically generated numbers. This sequence can be printed on a piece of paper or embedded in a coin, as a physical reminder, but it is the number, not the object (as in other currency), that has value.