Six signs pets are the economy's new big spenders
At just what point cats and dogs became full-fledged members of the family is difficult to determine. But today, pets' elevated status is apparent—Some 82.5 million American households, or 68 percent, include domestic animals. Americans spent an all-time-high $55.7 billion on their pets last year, and spending will inch close to $60 billion this year, according to recently released APPA data. That's a huge jump from 1996, when total pet spending was just $21 billion.
It starts with the $2.2 billion spent on live animal purchases last year, but it doesn't end there. Read on for six signs that the 'pet boom' is upon us.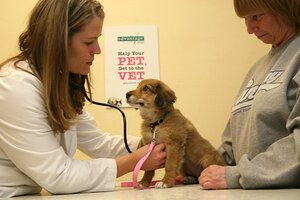 Marlene Karas /Bayer Advantage/AP/File
1.

Pet insurance

Forget about Obamacare adoption; pet insurance is quickly growing.

More and more companies are offering pet insurance as a perk to employees, with one in three Fortune 500 companies providing coverage.

Wal-Mart introduced store-branded pet insurance plans at select Canadian stores last year, marking their entry into an industry with an average growth rate of 13 percent a year, according to the North American Pet Health Insurance Association. Wal-Mart is following in the footsteps of outdoor-gear retailer Cabela's, which introduced pet insurance in 2011.

There's still plenty of room to grow: Less than 1 percent of America's 160 million cats and dogs are insured. Of the $55 billion that Americans spent last year on pets, $14.4 billion went to veterinary care.